EFONA / NAEFR SCRAP BOOK
Long ago and far away (the fall of 1991, Pennsylvania), a English Ford collector and EnFo parts trader named Bob Pare mailed out invitations to all of his English Ford contacts inviting them to join a club. The name of the club was the North American English Ford Registry or NAEFR. In short order NAEFR had over 100 members and the first issue of The English Ford Lines was dated January 1992 (many charter members are still with us 17 years later). Bob ran the club for the first three years and turned it over to David Wiggins in Rhode Island in 1995. During the 1990s the club thrived, and an annual gathering was held at the Carlisle, PA, Import Nationals each May. Bob Pare organized the NAEFR event and invited all English Ford owners to his booth to share root beer, peanuts, and lies. The annual NAEFR photo would be taken at 2:00 PM on Saturday.
In 1998, Dave passed the torch to me and membership peaked at about 225 in the early 2000s. When I took over the club, I officially opened it up to German Fords (French ones too for that matter). I thoroughly enjoyed editing the E-Ford Lines (as it eventually became known as) but had to cut back by the end of 2005. I have kept my responsibilities as club Director, Treasurer, and Secretary, but handed off editorial duties to Ed Rossier in southern California in 2006 and then to Judy Berrian of Olympia, Washington in 2007. Back in the early days I spent a lot of time trying to maintain a North American European Ford Registry, this proved to be an interesting, but tedious and more or less thankless task and in 2005 I devolved the registry, model by model to individuals who showed some interest in keeping a registry for any given model of European Ford located in North America. Some of the registries have become components of larger global registries based in England and elsewhere. Here is a link to SOME info on these registries:
http://www.enfostuff.com/forum/viewforum.php?f=13
Following will be a collection of NAEFR and EFONA related photos and memorabilia. Enjoy.
Michael MacSems
EFONA Director
January 2009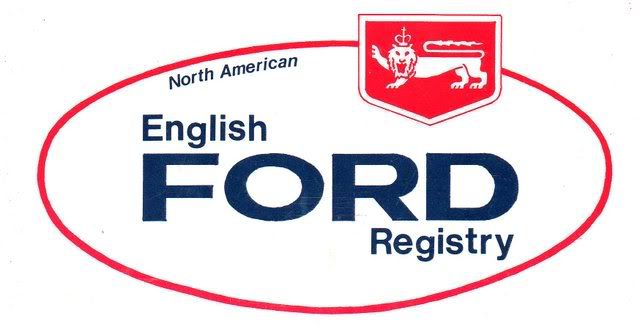 The original NAEFR logo designed by Bob Pare in the 1990s.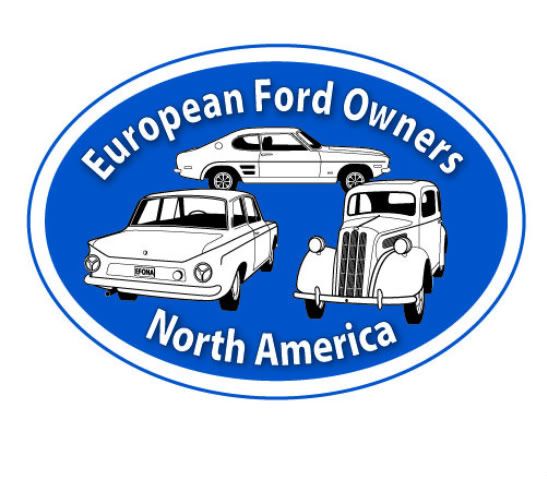 The current EFONA logo designed by John Beresford in 2008.